QUANTITY 1-5 EXM 151, EXM 151-T PRICING
EXM 151 350.00 EACH EXM 151-T 470.00 EACH​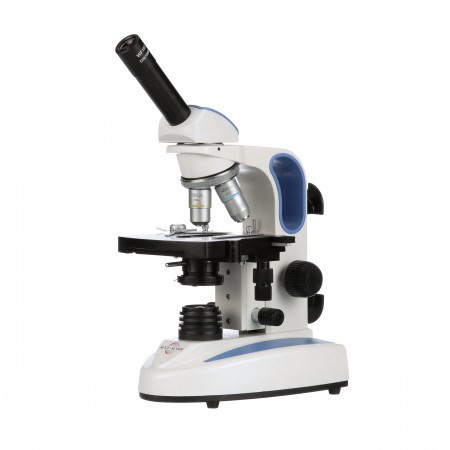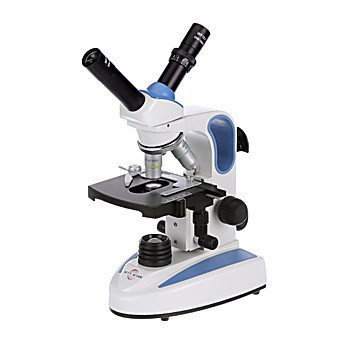 EXM-150 Monocular Microscope with Mechanical Stage & 100x

Catalog #:EXM-151, EXM-151-T (teaching head)

Specifications
•Optical System: DIN Optical System, f=160mm.
•Viewing Head: Monocular inclined head or Monocular dual inclined teaching head, inclined 45°and 360° rotatable.
•Eyepieces: WF10x eyepiece, 18mm field of view with pointer. Eyepiece is locked-in to prevent classroom tampering.
•Nosepiece: Rear facing quadruple, ball bearing nosepiece with positive click stops to ensure parcentration.
•Objectives: Standard configuration includes DIN achromat 4x, 10x, 40xR* and 100xR* oil objectives. (*spring-loaded).
•Stage: Stage size 119mm X 119mm factory installed double-plate mechanical stage with low position controls and iris diaphragm.
•Condenser: N.A. 1.25 Abbe condenser with iris diaphragm on spiral mount.
•Stand: Cast alloy aluminum with built-in carry hangle and cord hangers.
•Illumination: Variable and rechargeable LED illuminator. LED illuminators will last approximately 4 hours on a single charge and the expected bulb life is 20,000 hours. 3500mAh NI rechargeable battery.
•Focusing System: Separate coarse and fine focus adjustment controls. A tension adjustment is on the coarse control. A built-in slip clutch system and pre-set focus stop prevents accidental damage to objectives and slides.
•Accessories: Dust cover and instruction manual included.
•Certification: ISO 9001: 2018 and ISO 14001: 2018; CE; RoHS
•Warranty: 5-year limited warranty for parts, labor and electronic components; 1-year warranty on LED bulb
•Microscope Dimensions (LWH): 238mm x 184mm x 381mm
•Physical Weight: 8 lbs.
•Shipping Dimensions: 19x15x13 inches
•Shipping Weight: 17 lbs."